Efficiency and organisation are paramount for electricians and technicians, and Klein Tools, a trusted name in the industry, is proud to introduce two ground-breaking solutions to meet these demands. The Tradesman Pro™ XL Tool Bag Backpack (Model 62800BP) and the Tradesman Pro™ XL Tech Tool Bag Backpack (Model 62805BPTECH) are set to revolutionise the way professionals carry and organize their tools and equipment.
The Tradesman Pro™ XL Tool Bag Backpack is a game-changer for electricians, offering ample storage with 40 pockets. Electricians can keep their power tools, zippered bags, and essential equipment well-organised in this spacious backpack. 
The Tradesman Pro™ XL Tech Tool Bag Backpack is designed with today's technicians in mind. It features dual compartments for versatile storage, with a front compartment dedicated to tools and meters and a separate back compartment for laptops or tablets. The backpack boasts 28 pockets, ensuring everything has its place and keeping you efficient on the job.
Key Feature: Comfortable and Durable Design:
The curved, fully-moulded bottom of this backpack not only provides extra comfort while wearing it but also helps protect your tools and equipment from the elements. Crafted from durable water-resistant 1680d ballistic weave material, these backpacks are built to withstand the toughest conditions.
Key Feature: Cord Management and Charging:
Stay connected and powered up on the go. Both backpacks include a 1.5-foot USB-C cord with a cord management system. They also feature an exterior port for charging devices without having to dig into the backpack. This feature is especially handy for keeping your phone or other electronic devices charged throughout the day.
Key Feature: Internal Headlamp Bracket:
Illuminate your tool bag's interior or your surroundings with ease. The backpacks include an internal headlamp bracket designed for use with Klein Tools Headlamps (sold separately, Cat. No. 56062, 56049). It's a practical addition that enhances your visibility in dimly lit spaces.
Key Feature: Protective Front Pocket:
Safety first! The hard, moulded front pocket with dividers is perfect for safeguarding delicate items like phones and safety glasses. No more worries about your essential gear getting damaged in transit.
Key Feature: Easy Access and Convenience:
The main zipper is designed to open the bag fully, allowing you quick and effortless access to your tools and equipment. Additionally, there's an exterior tape measure clip and tape loop for added convenience, plus extra padding on the shoulder straps for comfortable wear, even on long days.
For more information visit: 
Tradesman Pro™ XL Tool Bag Backpack, 40 Pockets (62800BP) 
https://www.kleintools.co.uk/catalog/tool-backpacks/tradesman-pro-xl-tool-bag-backpack-40-pockets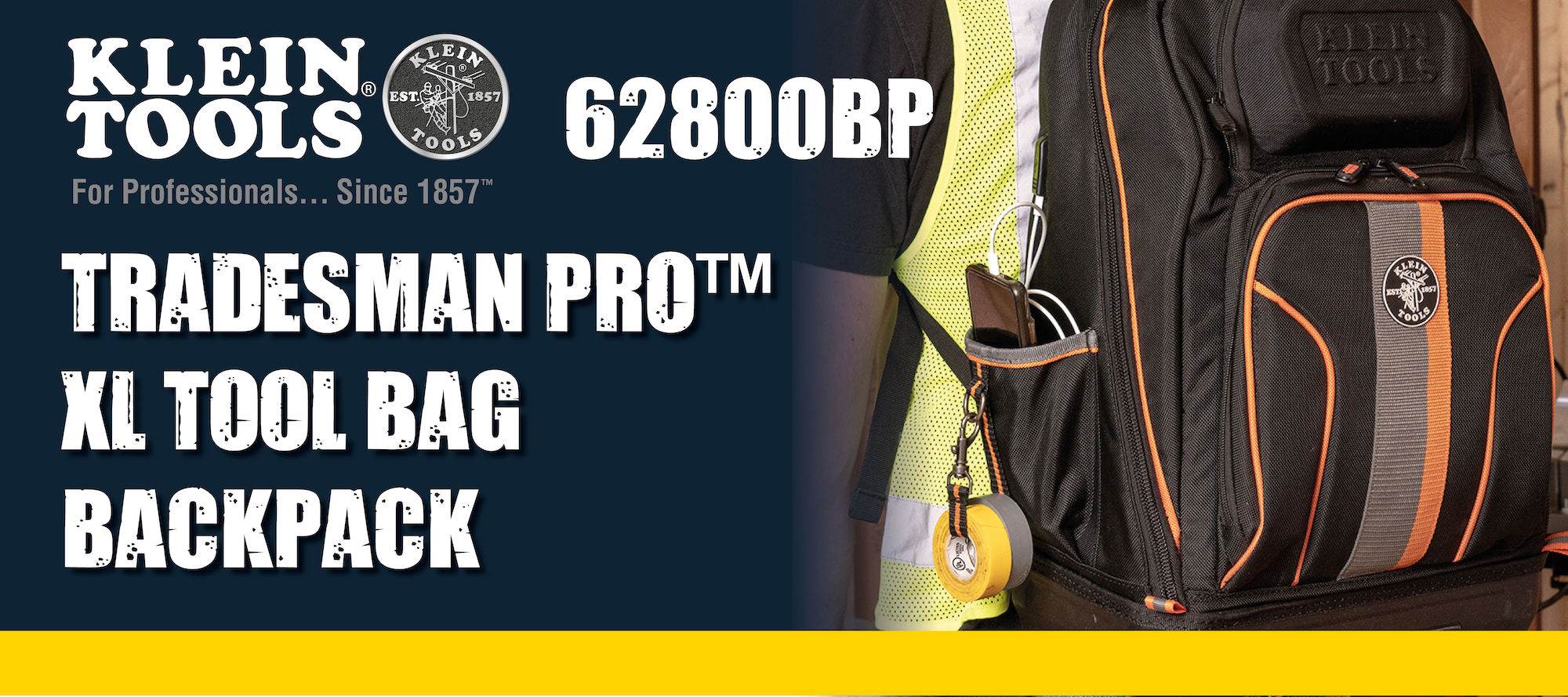 Tradesman Pro™ XL Tech Tool Bag Backpack, 28 Pockets (62805BPTECH)
https://www.kleintools.co.uk/catalog/tool-backpacks/tradesman-pro-xl-tech-tool-bag-backpack-28-pockets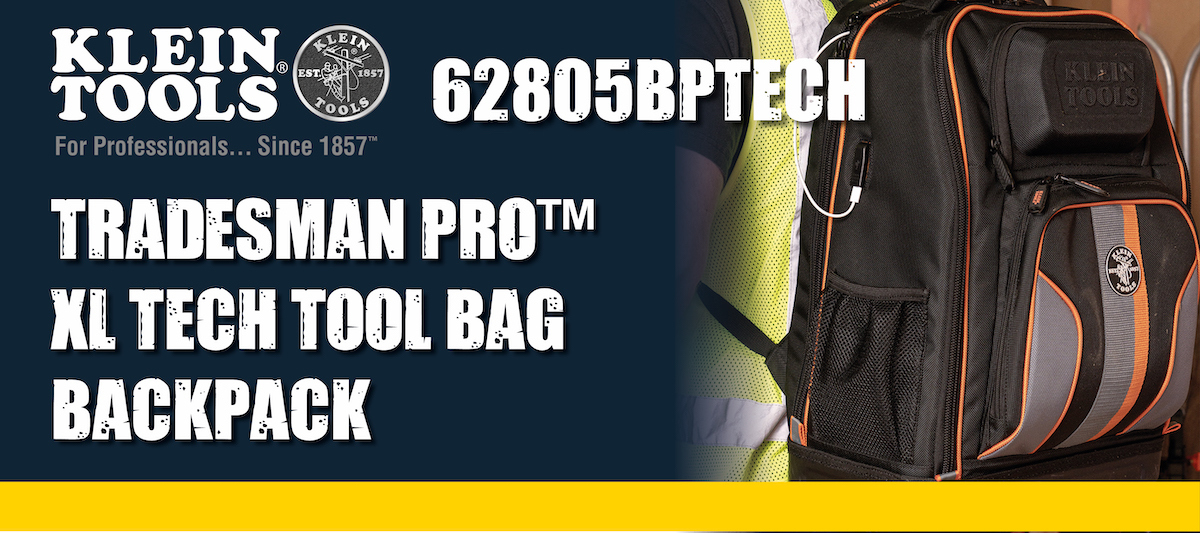 Experience the convenience, organisation, and comfort that these backpacks bring to you. Upgrade your gear and take your efficiency to the next level with Klein Tools' latest offerings. Your tools and tech devices deserve the best – choose Klein Tools.
For more information about any of our products contact sales@super-rod.co.uk or Tel: +44(0)1495 792000.